Start Increasing the Value of Your Home TODAY!
If you want to increase the value of your home you might want to consider making some smart upgrades.
These are improvements to your home that allow you to make somewhat minor changes that can offer major financial impacts. Some of the best home improvements for resale involve the kitchen, curb appeal, and those small DIY projects that make such a big difference in the aesthetic of a space.
Learn more about these home improvements as a viable way for how to increase the value of your home.
Send These 5 Upgrade Tips to Your Inbox NOW!
The Kitchen Is King!
Families flock to the kitchen when they first enter a home. It is the center point for parties and gatherings, important memories and holiday traditions. Start here with any upgrades for the biggest bang for your improvement budget.
Real Simple reports that you can get back up to 83% of the return on your investment in kitchen upgrades. However, the key here is to focus on positively impacting the worth of your home by purchasing materials that improve the real value of the space, but be careful not to overspend if you are thinking of moving anytime within the next three to five years.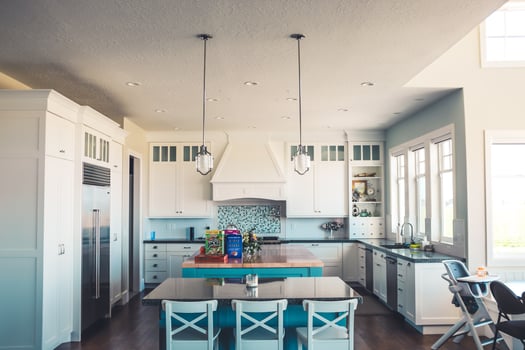 The best materials to use when upgrading your kitchen are the ones that hold up the longest and offer the best functionality.
NOTE: Marble, granite, stainless steel, cast iron, and cherry wood are all desirable materials for kitchen upgrades as noted by HGTV. These are the materials that homebuyers are searching for in the kitchen space when they buy a new home.
In addition, you need a consistent design aesthetic or style for the kitchen. This creates a more desirable and sellable space. Evaluate your current style and decide where you want your final kitchen design to trend toward. For instance, you might be interested in traditional American, but then you also might love the look of mid-century modern. Choose one style and stick with it. Once you nail this idea for your theme, you can start with those accessories.
You can even begin your kitchen transformation with a small upgrade like replacing accessories and fixtures that are easily interchanged. Reader's Digest points out how you want to keep all of your fixtures, tile work, drawer pull handles, knobs, and shiplap in the same...
Want all of the tips that can increase the value of your home?
This eBook is FULL of super simple, affordable changes that will do just that! Fill out the form below and get the
5 upgrades that are guaranteed to increase the value of your home!